6x more leverage power than traditional fishing rods
MORE POWER * MORE COMFORT * MORE FISH
Order now
A new Generation of fishing rod
The unnatural design of traditional fishing rods forces tension and stress on your wrist, hands, and tendons, which may lead to nerve compression syndrome, numbness, and pain in your joints, shoulder, and trapezius muscle.
Constant use of traditional fishing rods may cause chronic injury
The following image demonstrates the intense amount of stress to the wrist from holding a straight fishing rod.
Order now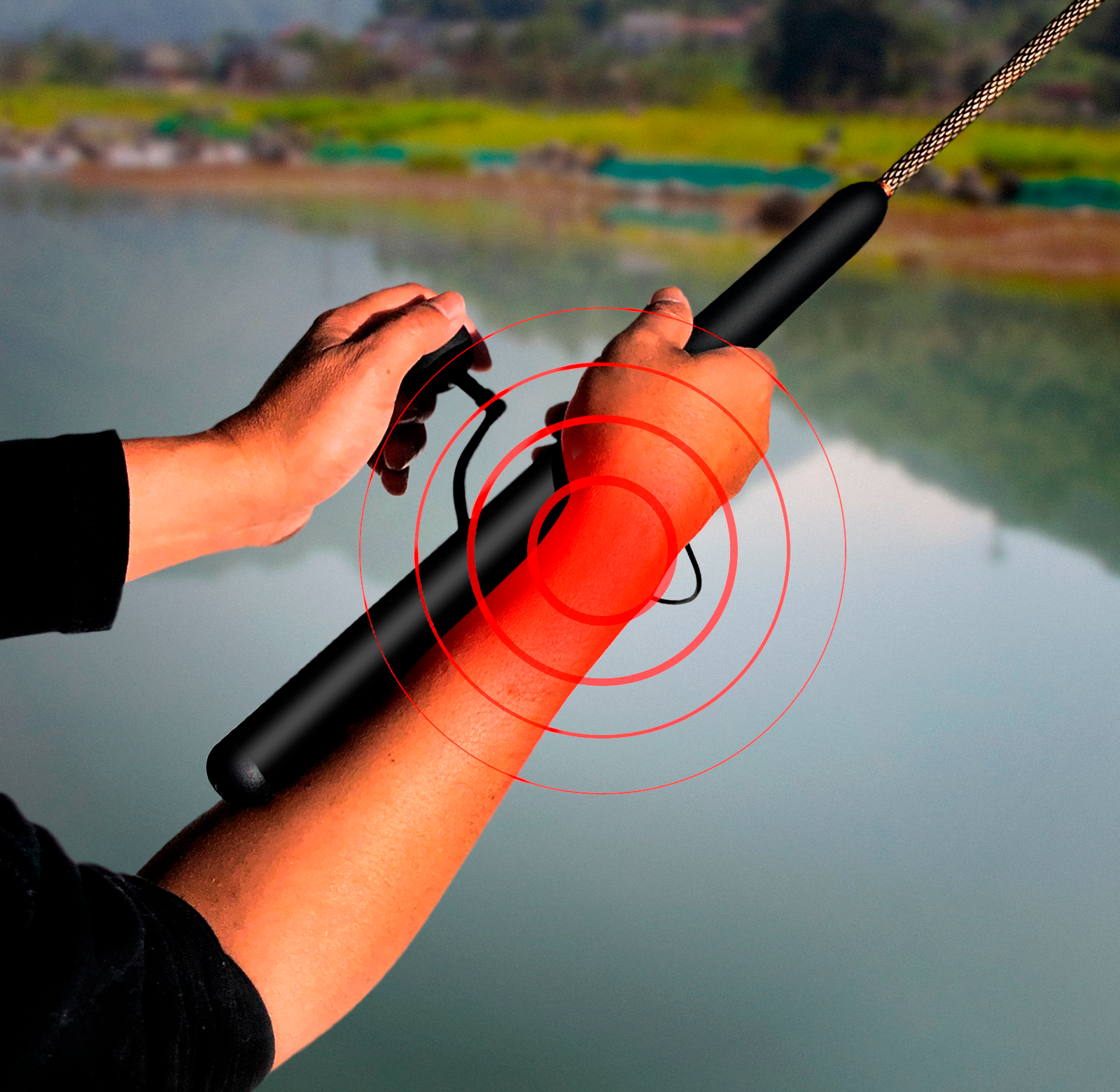 The science of DavinChi Rod
The DavinChi Fishing Rod has a perfect, natural, and comfortable grip, increasing your power and reducing six times the weight traditional rods place on the wrist. This means greater control with more power, more comfort, and more fish.
The DavinChi Rod is designed by Chi Huynh, an award-winning designer and artist. The DavinChi Rod is perfect for everyday fishing at the shore, pier, lake, or on a boat.
The tip is sensitive enough to catch a 1-pound fish and powerful enough to handle a 25 pounds fish. Though the included tip is not designed for 50+ pound fish, we encourage you to test the rod's limits. If it breaks, we will replace it at no charge.
Order now
Ever forgotten your knife on a fishing trip?
Not to worry, we've got you covered!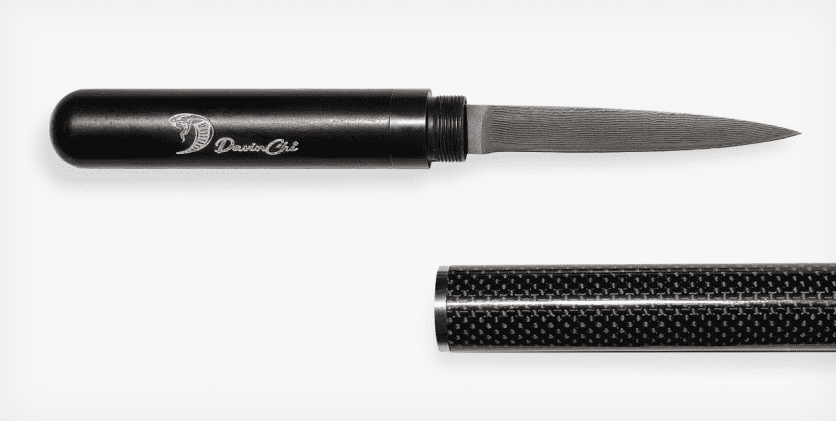 Each DavinChi Rod comes with a hidden knife in the bottom of the rod's handle. It will always be there when you need it the most. • High-quality Damascus steel • Strong and durable wood handle • Designed for peace of mind.
The art of DavinChi
Engineered tested for structural strength
Exclusive patented design
Patent No.: US 7,854,086 B2
Ergonomic design for comfort, strength and catching more fish
Rod and handle made with the finest carbon fiber
Order now
The DavinChi Rod Experience
Testimonials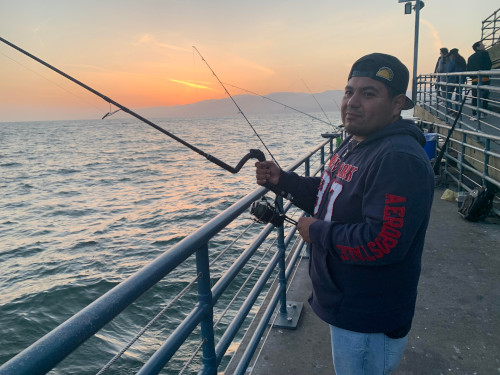 Doug
"Perfect at the pier. I can rest the snake curve over the rail too. I like it."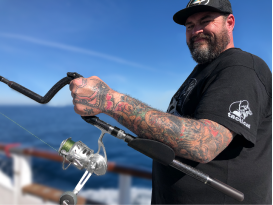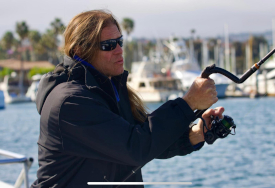 Carlos Reynosa
"Love my rod."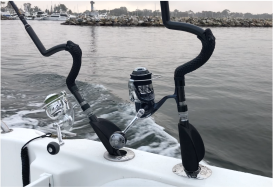 Chi
"Fits perfect on my boat."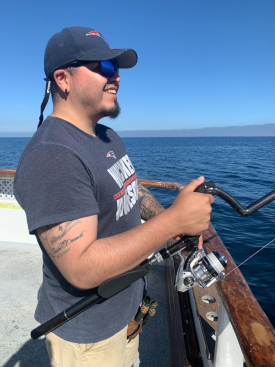 Pablo
"This rod has a good backbone for big and small fish without carrying two rods on my fishing trip."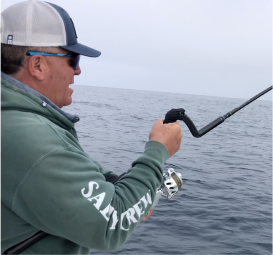 George
"I've been fishing for years and have dozens of rods, but this is the most comfortable rod I have ever owned."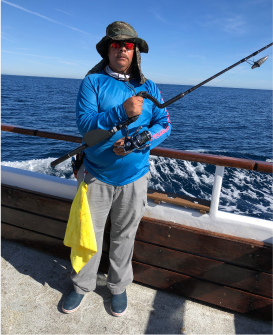 Conrad
"It is very comfortable and more powerful for sure."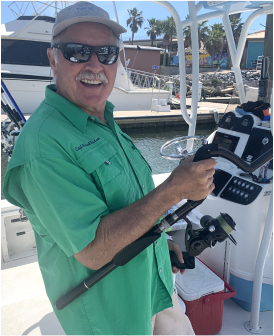 Mike
"Classy rod for classy people."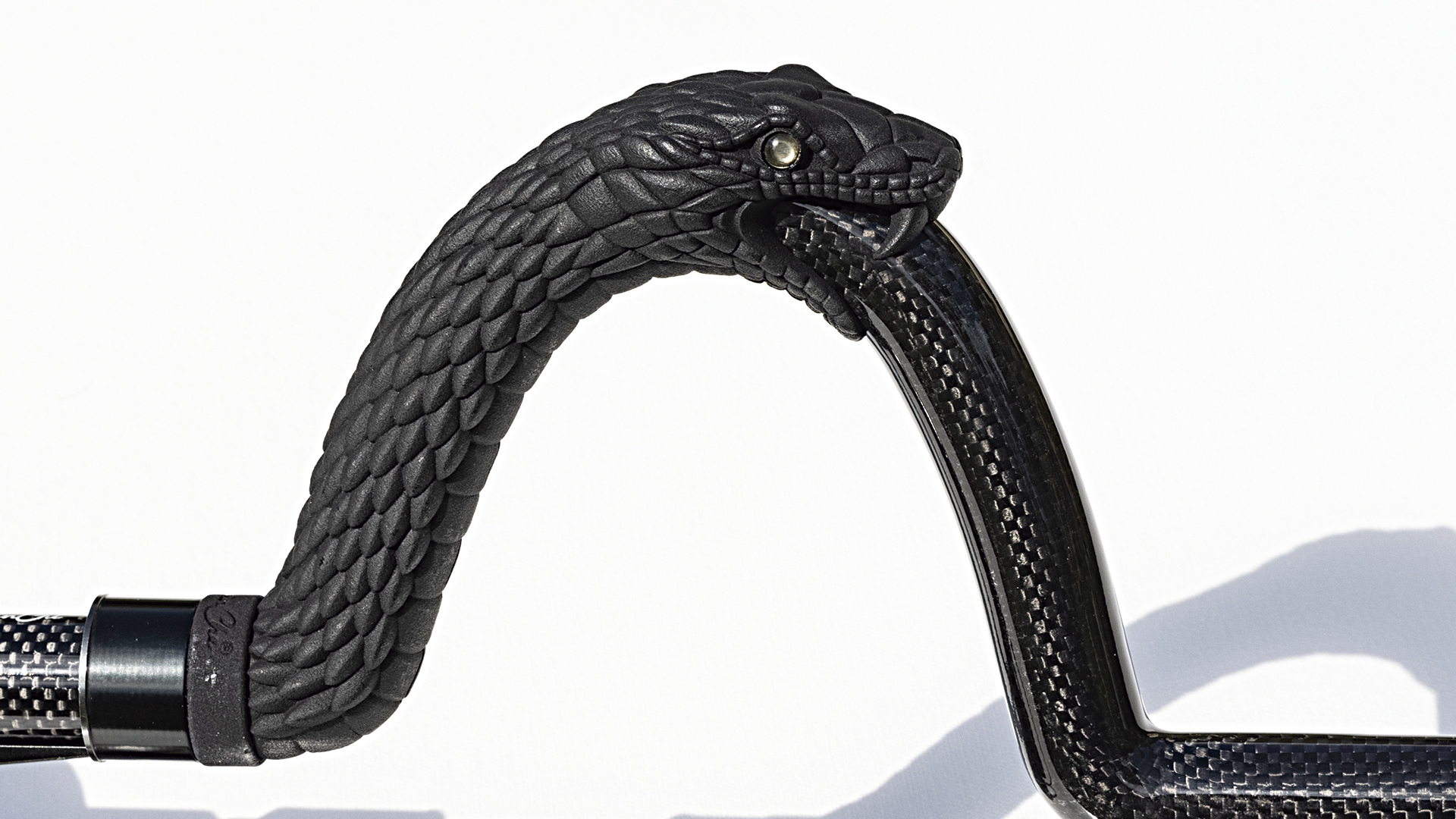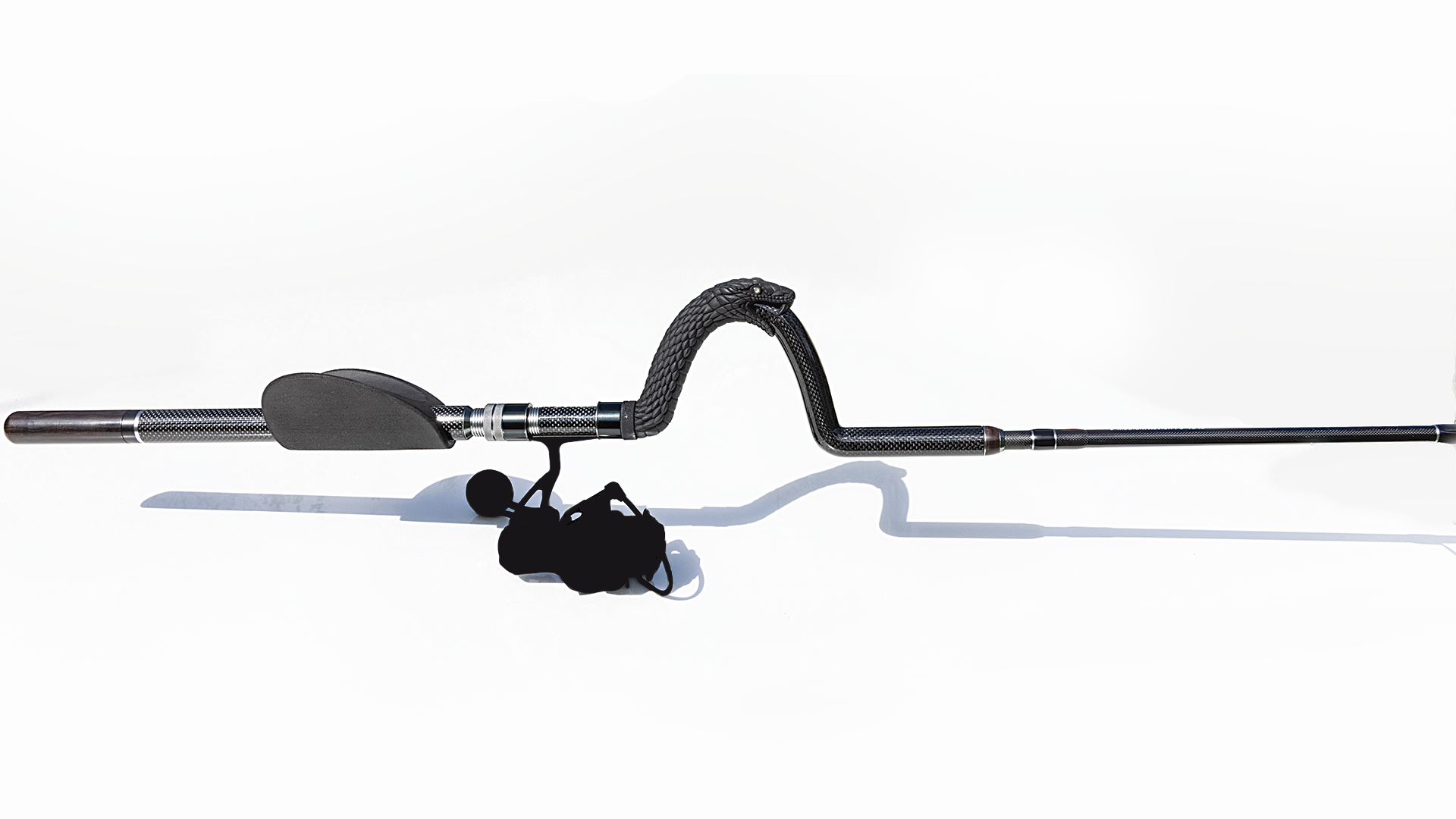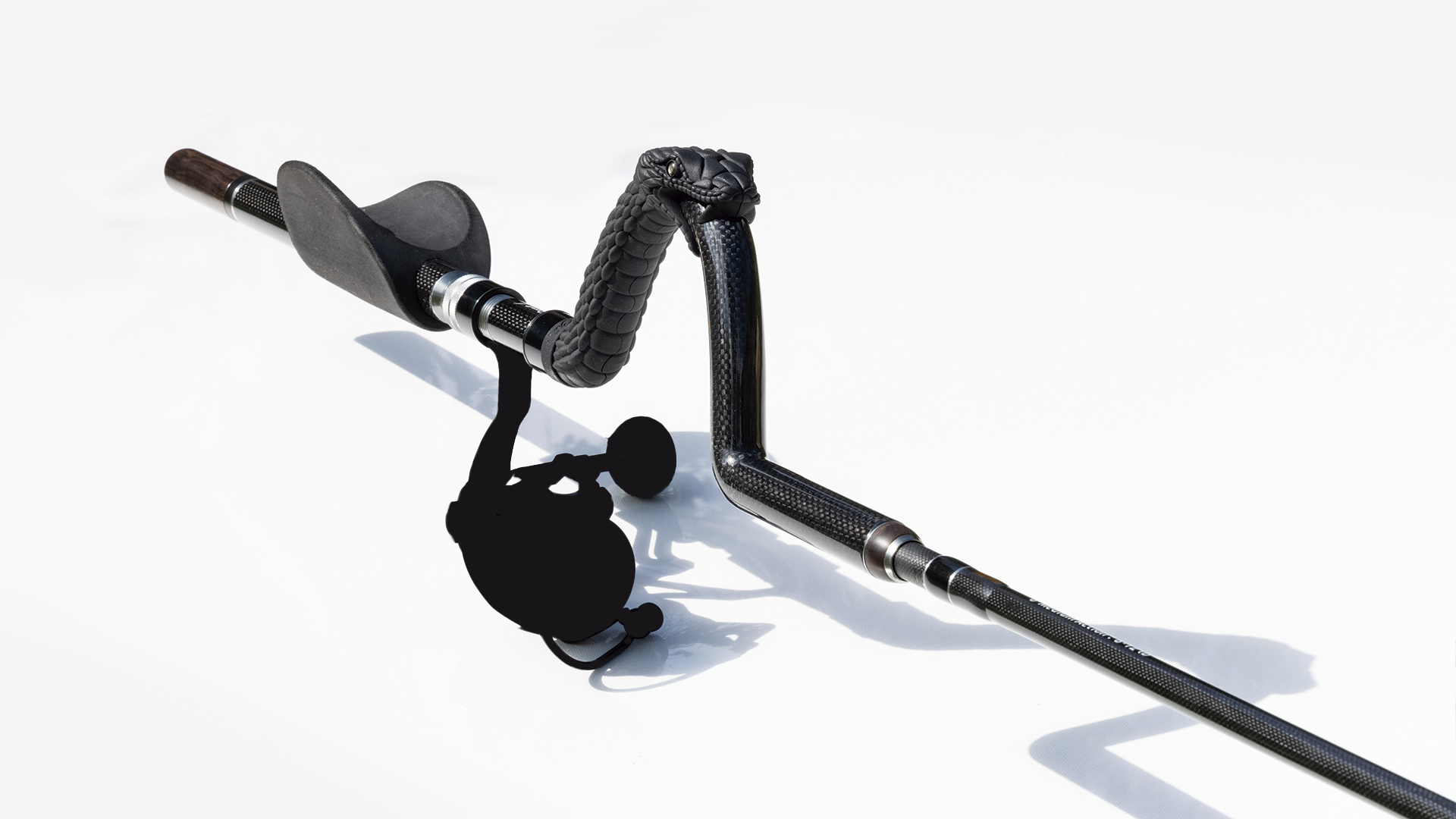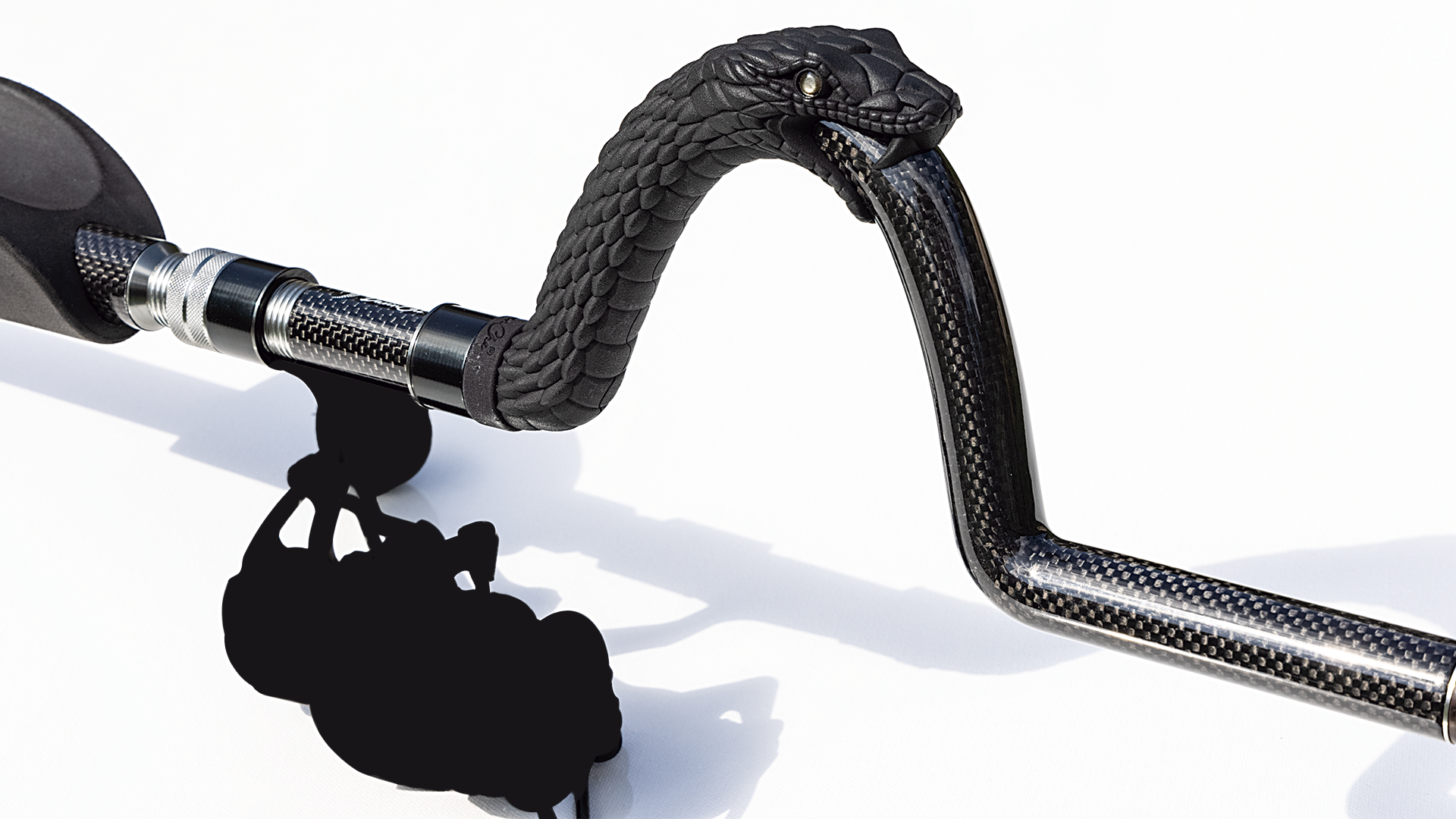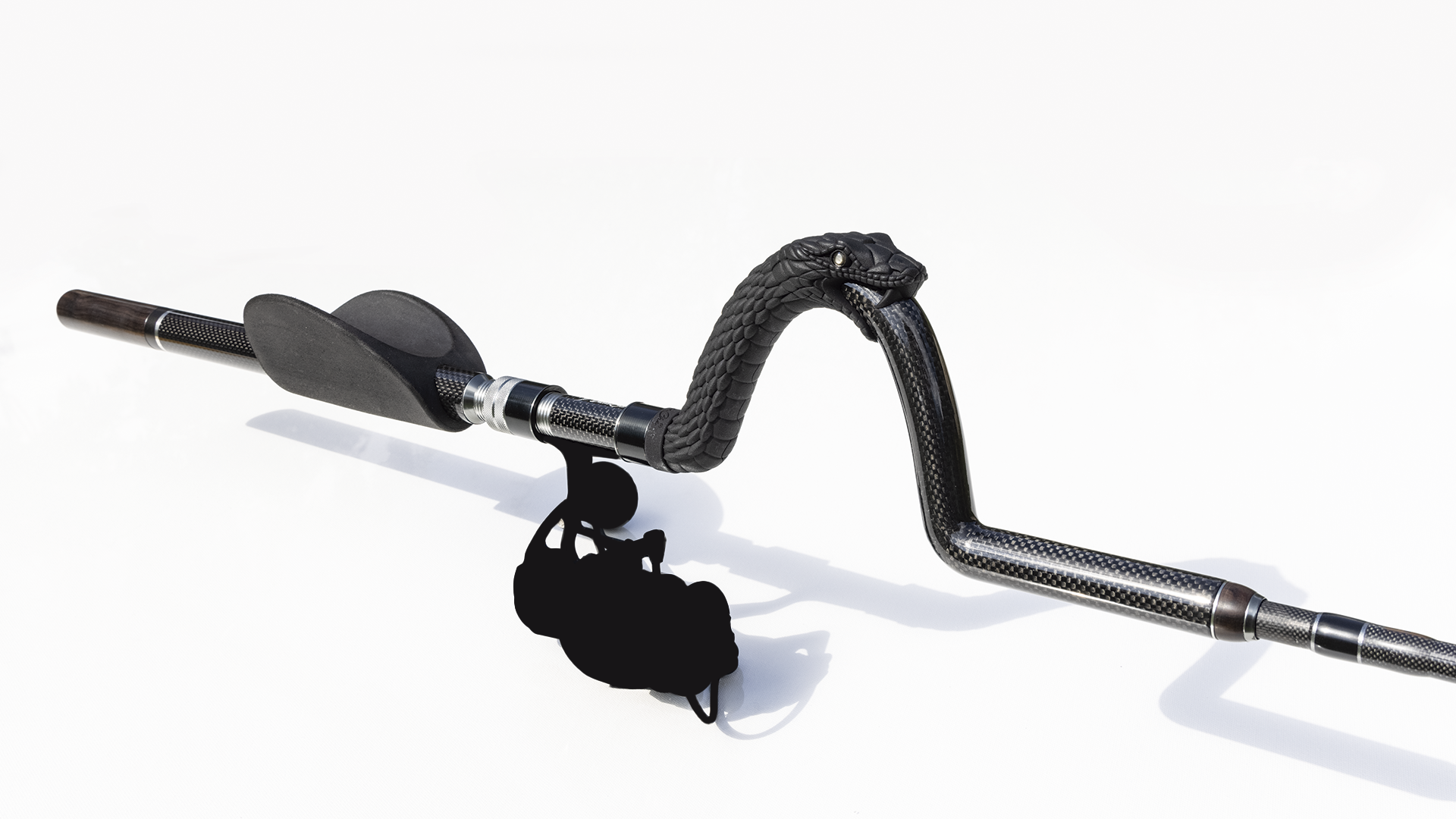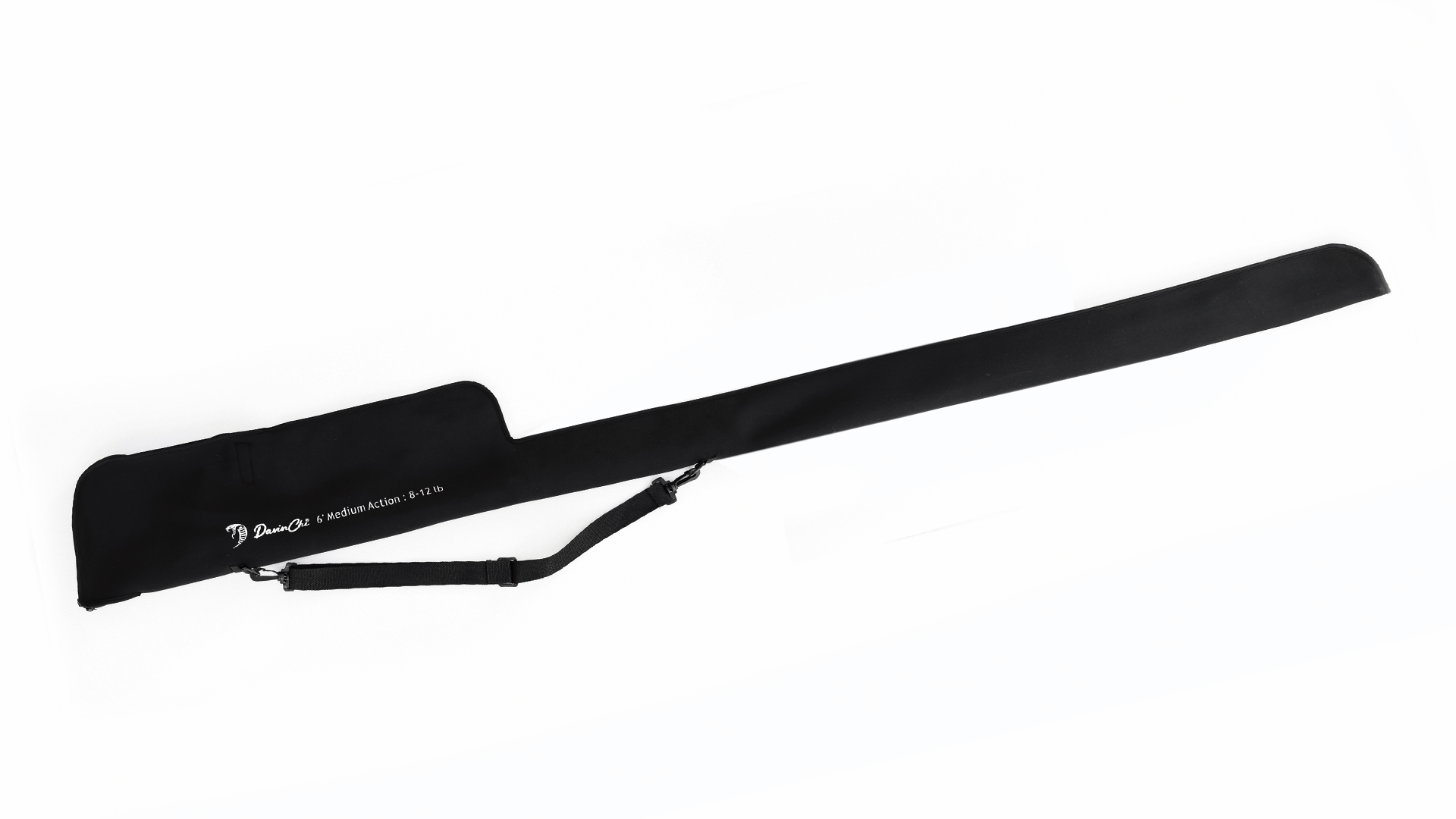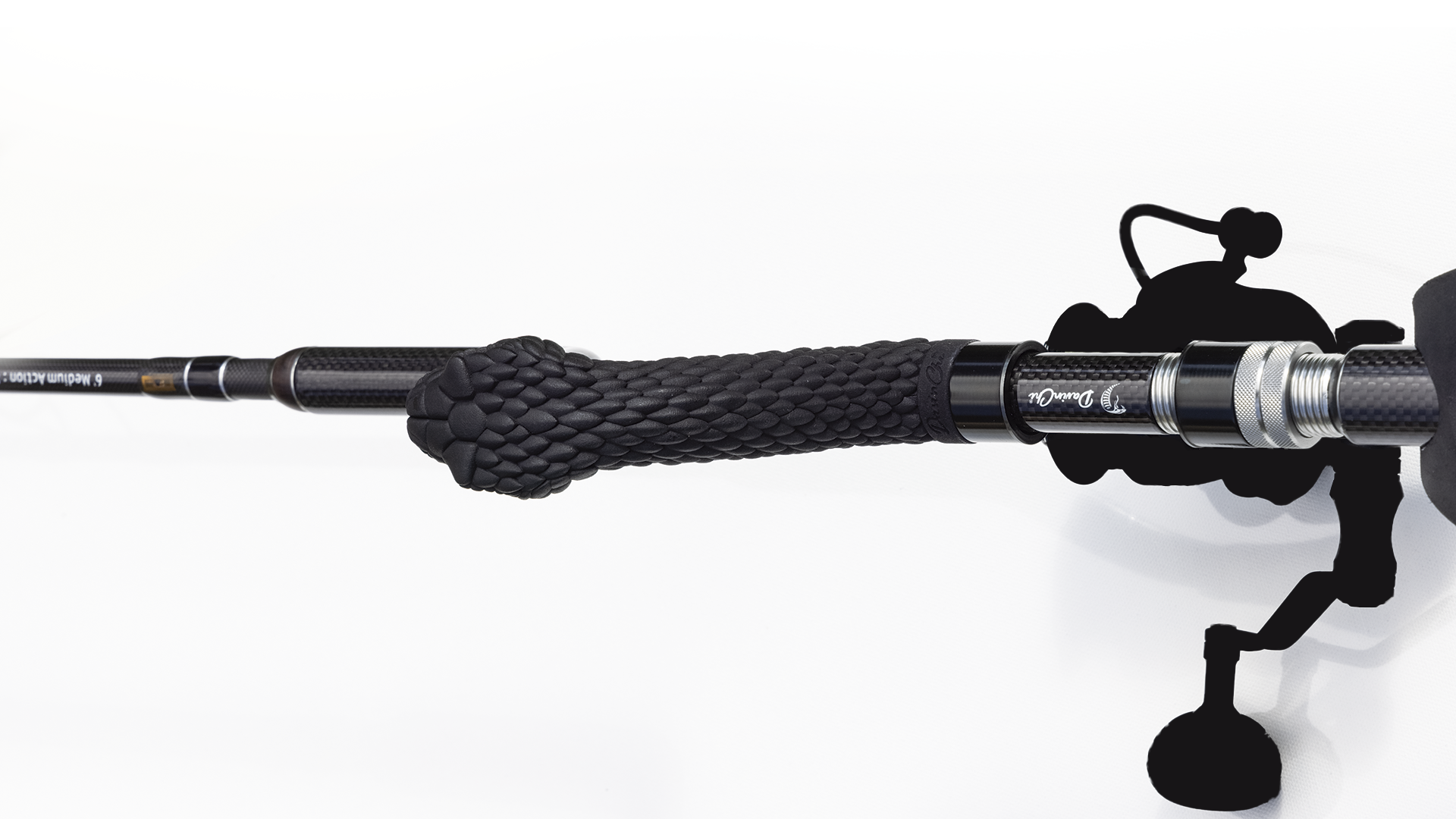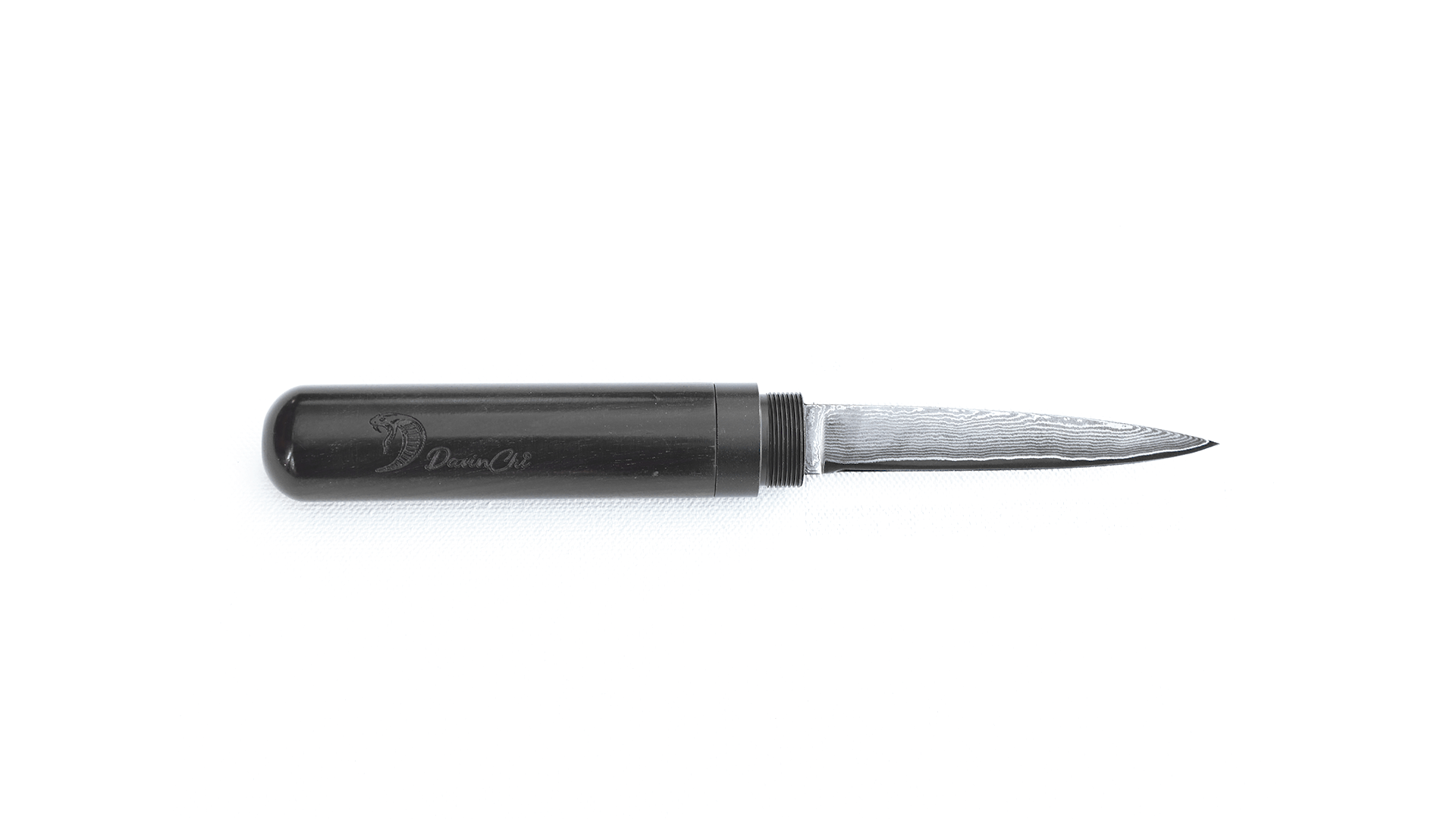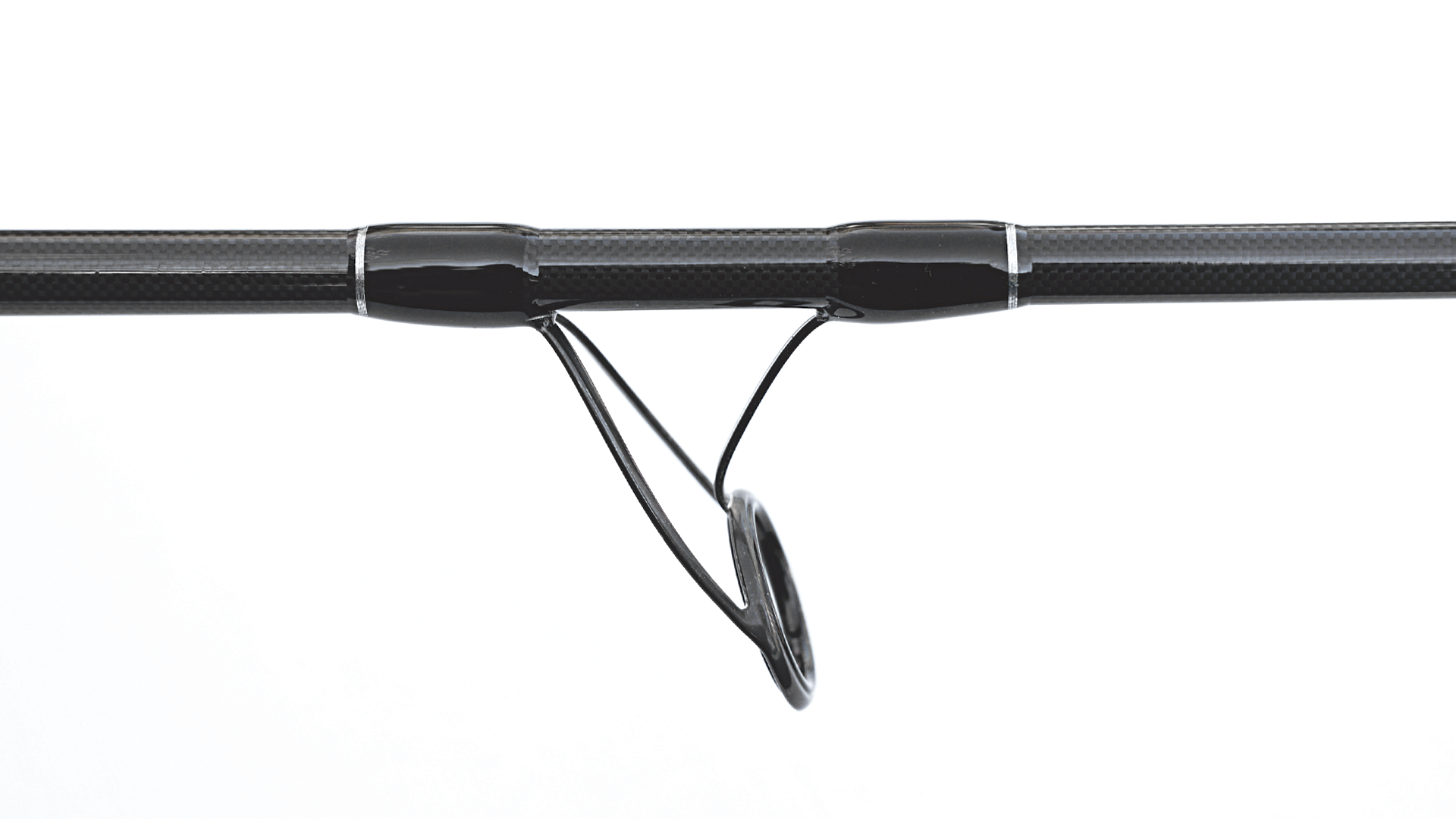 Cobra DavinChi Rod
Carbon fiber Cobra DavinChi Rod with detachable tip
Total Length: 8.5 feet Handle
length: 30 inches
Tip length: 72 inches
Tip weight: 08- 12 lbs medium action
Arm support
Guide: alconite ring and stainless steel frame
Knife: Damascus steel with wood handle
DavinChi Rod Community
American Outdoors interviewing DavinChi Rod
Kurt Tillman bought the DavinChi Rod
Fishing in this video was done with captain Kurt Tillman.
Eric Testing and Catching Big Yellow Tail with DavinChi Rod
Captain Charlie bought the DavinChi Rod
Specifications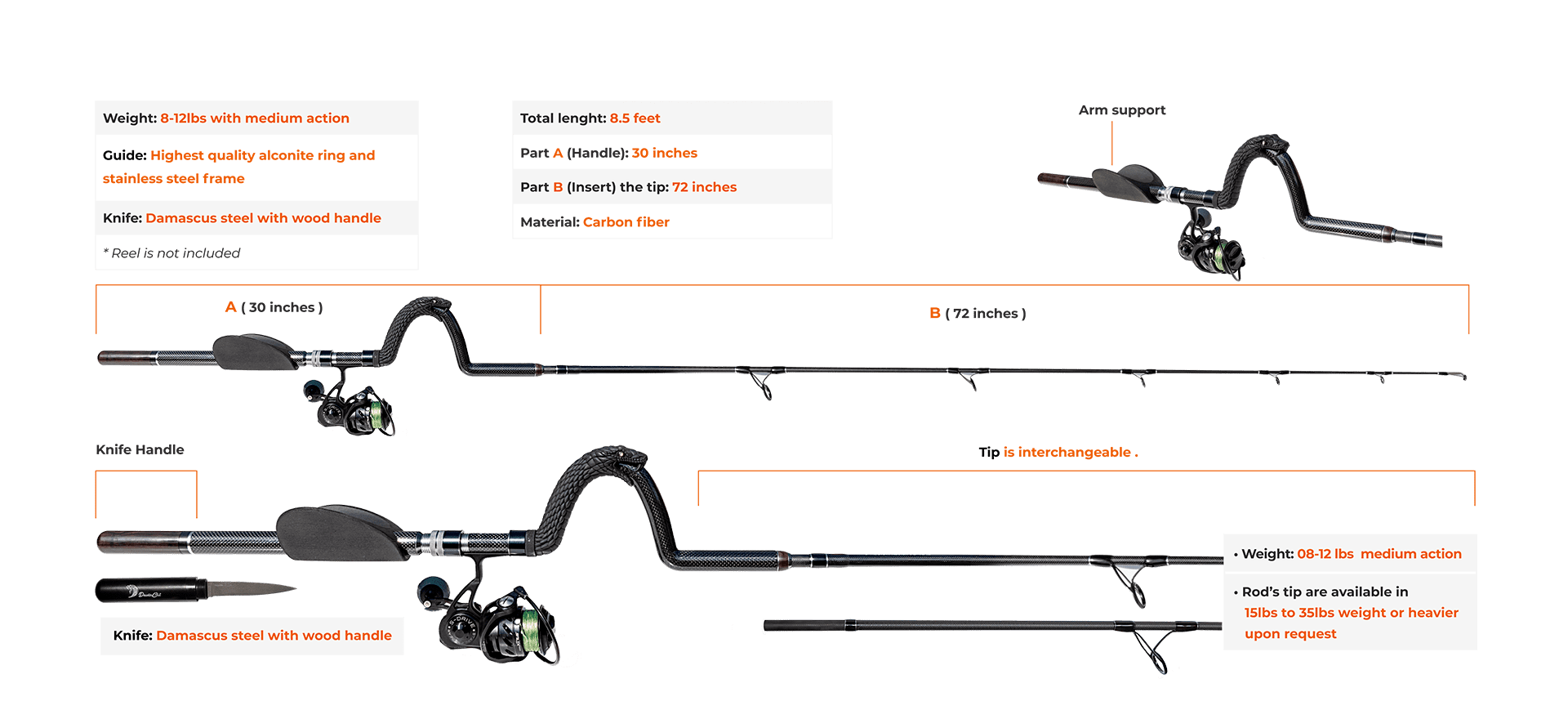 ALSO GET TO KNOW THE SAMURAI COLLECTION
LETHAL ELEGANCE AND COMFORT WITHOUT VISIBLE SCREW AND THREAD ON THE REAL SEAT. PATENT BY CHI.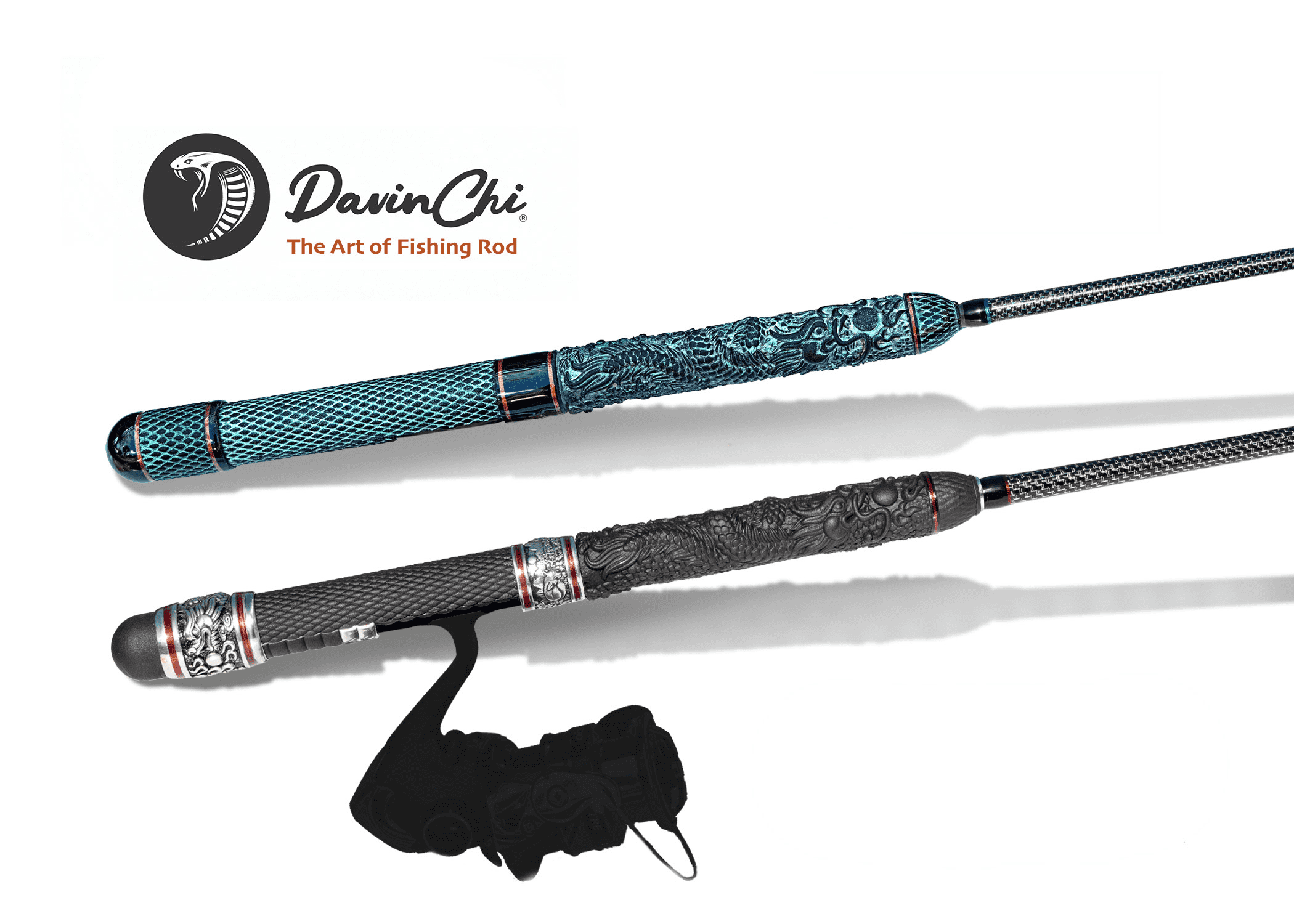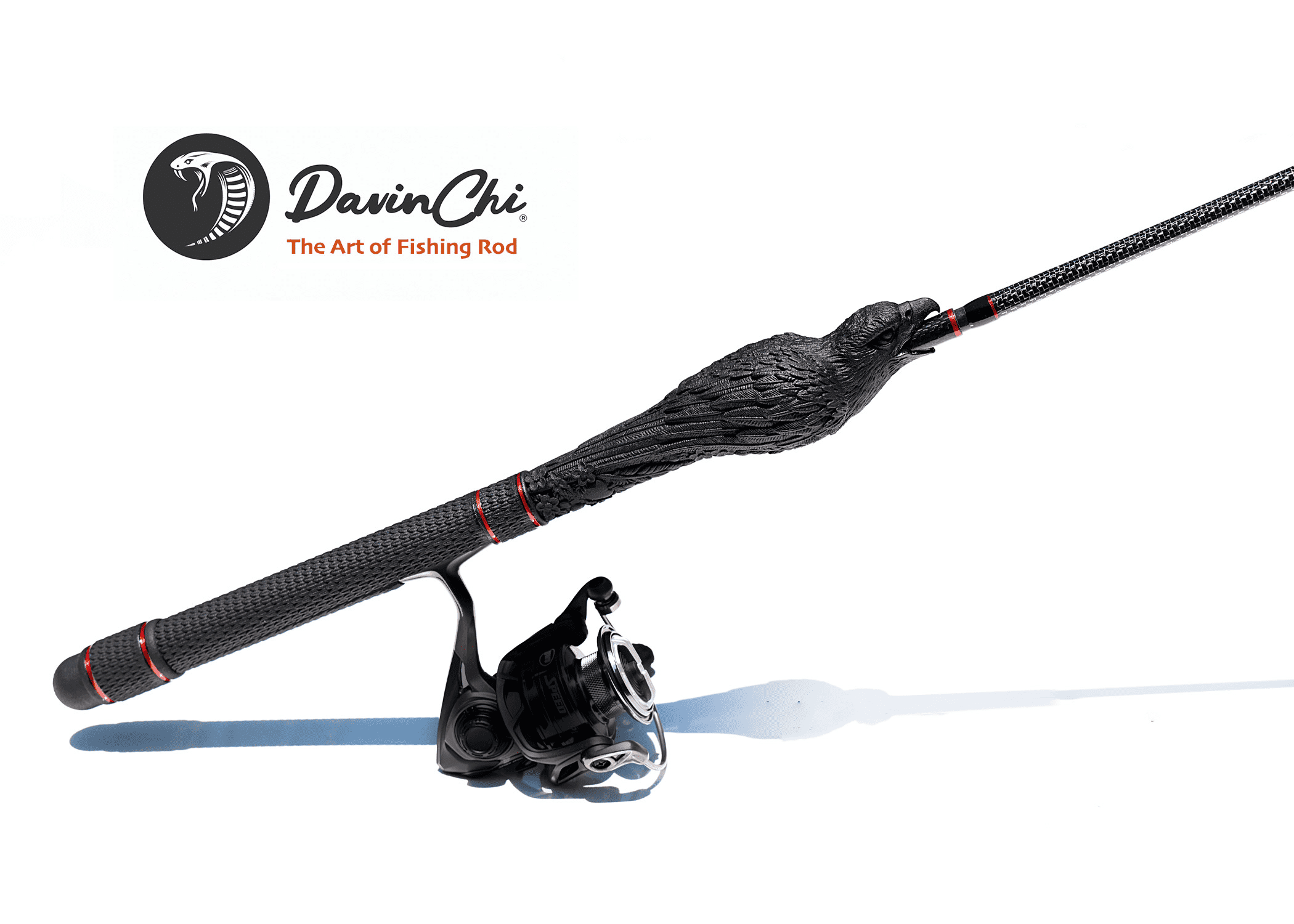 Frequently Asked questions
No, at the moment, the DavinChi Rod is explicitly designed for spinning reels. The fish caught in our videos were primarily caught with the Tsunami SaltX 4000, 5000, and 6000 and the Van Staal VS X series.

There are many good brands out there you can select from to fit your budget. We personally prefer and use the Tsunami SaltX 5000 or 6000 and the Van Staal VS X series.

While the Davinchi rod is officially rated for 8-12 lbs, the rod has an extraordinary tip. Not only be light and sensitive enough to feel and catch a 1lb fish, but it also has enough backbone to catch a 25lbs plus fish, as can be seen in our videos. This means you only need a DavinChi rod to do most of your everyday type of fishing. While the current tip is not designed for giant grouper or 100 lbs plus tuna, we've seen fantastic fisherman pull in some huge fish well beyond its rating. Though we intend to offer higher-weight rods in the future, you can reach out to us and special order an additional heavier tip for bigger fish.

DavinChi rods are specially designed for interchangeable tips to save money from buying multiple fishing rods. Our current tip on this website is suitable for catching fish size 2lbs to 25lbs for everyday usage. We are producing bigger tip sizes: 15-30 lbs and 35-50 lbs, and in the next few months you will be able to order these tips directly from the site. In the meantime, let us know what other size of tip you may need, and we will create a custom-made tip to accommodate your request.

Yes, moving the leverage from the wrist to the elbow frees up more strength in your single-arm, allowing for a greater force in catching fish one-handed. When encountering even bigger fish where both arms are needed, you can maximize your strength by allowing both arms to pull with more efficiency. Essentially, you will be able to catch bigger fish in general.

Yes, it's designed to fit most boat inserts.

You cast it the same way you would a traditional rod with a spinning reel.

Yes, though this rod is specifically designed and weighted for bigger fish. We also plan to create smaller weighted rods in the near future.

The Community is a group of fishing enthusiasts that share photos and videos of their favorite catches using the DavinChi rod to be featured on social media and YouTube. and the DavinChi Rod YouTube Channel. Community members also receive exclusive pricing and discounts on DavinChi Rod products.